Malmö
Malmö station provides a journey even before leaving the platform, through the projection of Tania Ruiz Gutiérrez's video art landscapes and cities. We salute this initiative of making our lost time more arty and poetic! See video Malmö Station.
Paris
In the Paris suburb of Boulogne-Billancourt, a shop owner created art with the white-washed window during the refurbishment of the office, offering aesthetic pleasure to the passers-by. How simple and ingenious it can be…
London
We would love to see this in Paris: the workers of a building site actually cleaning the surrounding wall! It takes time, sure, but has an immediate impact on the company image and on the street atmosphere.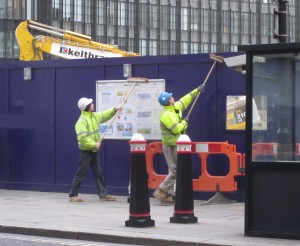 Bruges
The owner of this house has added a surrealist touch to his façade. They say that humour is never wrong – we say that's true as long as it is this stylish!